Note: This page is best viewed in Internet Explorer or Firefox ...
Jessie Broadnax
has been a member of Pleasant Zion (PZ) since the late 1970's and has played an integral role in the Church's success.


Not only does Sis. Broadnax teach Bible Study classes every Wednesday morning at 10:30 A.M.,
she has also taught Bible Study classes on Monday nights.

Even if you're not a member of PZ, you are welcome to attend any service or event at the church.
Attend the Wednesday morning Bible Study class @ 10:30 A.M. - you will be well accepted and Blessed!


Jessie Broadnax
is also the Superintendent of PZ's Church School (Sunday School) on Sunday mornings.

If you (know) your Word, "THE SUNDAY SCHOOL NEEDS YOU"
If you (don't know) your Word, "YOU NEED THE SUNDAY SCHOOL"

QUOTE from SIS. FRANCIS SMITH [ KNON / 89.3 FM ] SPIRITUAL RADIO PERSONALITY
Sis. Broadnax has a unique approach with her lessons plans and is "very" well prepared.



HOW PREPARED IS SHE? (This is how she … Hooks It Up …)

- Sis. Broadnax has a stack of lessons that she previously studied


-

Before Wednesday, she selects one of the lessons


-

Then studies the lesson again


-

Then presents the lesson to the class

After each lesson, someone almost always mention that the lesson just presented was "Just what they needed to hear."

Jessie Broadnax is very effective in getting her message across to all participants.
Everyone who has ever attended one or more of her classes has a deep appreciation and respect for this special "Woman of God."

Click to view comments and thoughts from a few participants that regularly attend her Wednesday morning Bible Study class.

To prove the point that you're never to old to learn,
On June 4 2017,
Sis. Jessie Broadnax graduated from the Dallas Bible Theological Institute.

The commencement program was held at the Second Baptist Church in Dallas, Texas.

This fact also further proves that learning about God's Word is never-ending ...
It's a Life-Long Process.
Q:
Before entering this class, did you have any expectations?
SIS BROADNAX:
Yes, to be faithful and to learn more about the Word of God.
Q:
With your knowledge of God's Word, what helped you decide to enroll in this class?
SIS BROADNAX:
I have such a love and passion for the Word of God until I wanted to learn even more.
Q:
How did your previous knowledge of God's Word help you to succeed in this class?
SIS BROADNAX:
By applying what I already knew with what I was being taught.
Q:
Upon enrolling in this class, what challenges did you face and how were you able to overcome them?
Using computers, Homework, Studying, etc … ?
SIS BROADNAX:
It was quite a challenge in much homework and studying. But putting God first and much prayer - I made it.
Q:
What will you remember about your teachers?
SIS BROADNAX:
Awesome! Committed!
Their time, patience, wisdom, knowledge of the Word, humor, kindness and the love that was shown to each student.
Q:
What will you remember about this overall experience?
SIS BROADNAX:
The joy and strength, the encouragement, the mind and the excitement that God gave me to start and complete the
course for 4 years.


Q:
Do you think you've graduated from studying God's Word?
SIS BROADNAX:
No! Learning God's Word is a life-long process. The " only " graduate in knowing God's Word is JESUS CHRIST!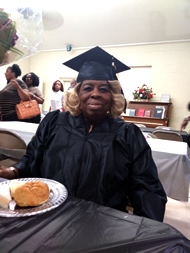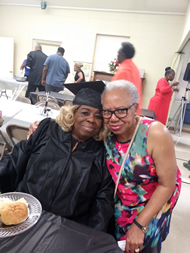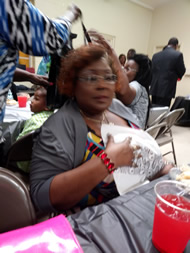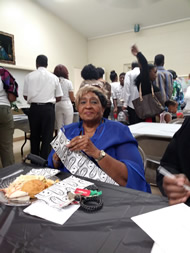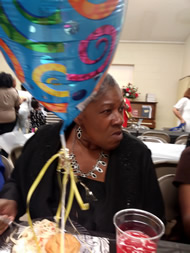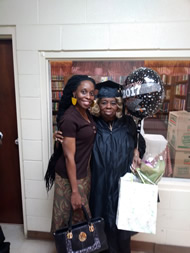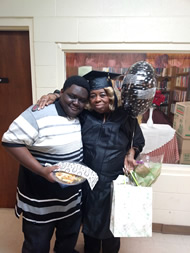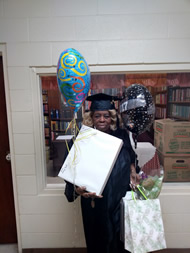 BRO. JAMES DICKERSON


Congratulations on a job well done. Love you Jessie.

SIS. SULILLIAN DICKERSON


Congratulations on your graduation, a diploma well earned. May God continue to Bless you.

SIS. NONA DRAKE


I think Sis. Broadnax is a great teacher. She is so down to earth and genuine about what she's teaching. She gets excited and wants her students to feel the same about God's Word. Thank you Sis. Broadnax.

SIS. MARGARET JOHNSON


Jessie has taught everyone the true meaning of "Listen to Learn & Learn to Listen" and study to show yourself approved.

II Timothy 2:15 and Proverbs 3:5-6
Trust in the Lord with all thine heart and lean not unto thine own understanding. In all thy ways acknowledge Him and He shall direct thy path.

Although we were in the kitchen preparing food during the Bible Study lessons, Jessie has always been gracious enough to provide the lesson to us after class.

BRO. BENNY NASH


Although I am not a member of Sis. Broadnax's Wednesday morning classes, I was one of her students during the Monday night Bible Study classes she taught. I am honored to have participated. I was impressed how she prepared each lesson by supplying all attendees with a printed copy of Scripture references of the lesson. From time to time I still review those lessons.

Sis. Broadnax breaks each lesson down so that everyone understands them. She also engages each participant by asking if there are any questions and gives further explanations. It is a joy and a Blessing to know and listen to Sis. Broadnax . She is a gifted teacher of God's Word.

Even when I ask her questions about life situations, she has always found the answer in Scripture and explained it to me. Sis. Broadnax is one of my

"Favorite"

Church Ladies. I Thank You and I Love You!

SIS. PEARLINE JACKSON





WHAT SIS. BRADNAX CLASS HAS MEANT TO ME


Strictly from the heart & Led by the Holy Spirit.

It is a refilling of what God has already blessed me to know and understand. She fills my cup each and every Wednesday and I thank God for Jessie. It has strengthened me and she's a teacher beyond every other teacher.

She's just outspoken and plainly speaking in the name of Jesus. I've learn a lot from Sis. Jessie Broadnax, it keeps me going.

Everyday with Jesus is sweeter than the day before. Jesus saves and keeps me. He's the one I'm living for and Sis. Broadnax is just a great teacher. She's my mentor and has helped me a lot.

Each Wednesday the Lord Blesses my heart to go and hear her, talking about what thus says the Lord – sound doctrine. I truly believe God has a big calling on Jessie's life.

They say when E.F. Hutton speaks everybody listens; when Jessie speaks, everyone listens because she's speaking only under the anointing of the Spirit of God. I praise God for her.

I can hardly wait (with anticipation) until the next class, for what lesson Jessie is going to bring to us, lead by the Spirit of God. I ask the Lord to continue to bless my teacher.

Sis. Broadnax is faithful, that's why He's Blessing her for what she's doing. She's been blessed for so many years, Blessed beyond Blessed, unspeakable Blessings.

He wants us to be faithful, that's what Jessie is doing. I remember a time when it was just Jessie, Mother Howard and myself.

He said when two or three are together, touching and agreeing, He would be in our midst.

Jessie is somebody – She's down to earth.

SIS. JO GONZALEZ

JUST FOR YOU JESSIE BROADNAX


THANK GOD FOR YOU

Thank God For you,

Good friend of mine.

Seldom is friendship such as thy,

How very much I wish to be,

As helpful as you've been to me.

Thank God for you.

When I recall from time to time,

How you inspired this heart of mine.

I find myself inclined to pray,

God Bless my friend this very day.

Thank God for you.

Someday I hope with you to stand,

Before the throne at God's right hand.

And to say to you at journey's end,

Praise God, you've been to me a friend.

Thank God for you.

How do I love thee …